LASER HALO HYBRID
The Halo laser is the first fractional laser which combines ablative and non-ablative wavelength to improve the skin's quality and texture.
WHAT RESULTS CAN I EXPECT ?
You will see improvement in tone and texture with a significant reduction of fine lines and pore size, removal of discoloration spots and improvement of the skin reflectivity and glow.
HOW MANY SESSIONS WILL I NEED ?
Your clinician and you can decide how many treatments you want ! You can have one or two aggressive treatments or several less aggressive treatments to achieve the same results over a longer period of time.
WHAT HAPPENS DURING THE TREATMENT ?
You will not feel anything except a minor discomfort. Your clinician can apply a topical cream over your face to reduce prickling sensations during the treatment. He will treat one section of the face after the other by rolling the handpiece over the skin.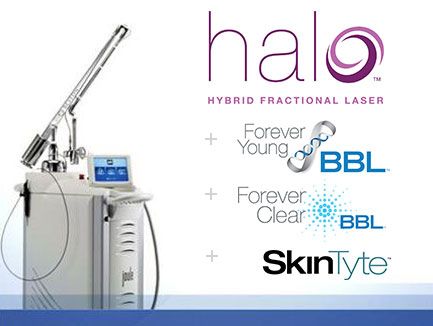 CAN I RETURN TO MY NORMAL ACTIVITIES AFTER THE TREATMENT ?
Of course ! During the first 24 hours, you need to protect your skin according to your clinician's instruction but after that you can go back to your normal activities. After the first 24 hours, your skin will start to peel but you are allowed to use foundation.
WHEN WILL I SEE THE RESULTS ?
You will see the first results 2 to 5 days after the Halo treatment but your skin will continue to improve over time. Most patients see the greatest improvement over after 2 or 3 weeks.
HOW LONG WILL THE RESULTS LAST ?
The results you will get with the Halo laser can last for several years if you protect your new healthy skin with UV sunscreen.